Shared Journey - Fertility Program


Mercier Therapy Sweden - Shared Journey is a six weeks long fertility program, with one treatment per week and up to 12 months follow-up.

You can use the program to prepare your body for pregnancy naturally as well as for assisted fertilization. We recommend everyone to prepare their body in the best possible way before a medical infertility treatment.

Mercier Therapy is a soft tissue visceral manipulation technique used to help restore optimal function of the pelvic organs, and to naturally improve the health and general wellbeing within the female pelvis. It ensures that the organs in the pelvic area have the right position, full mobility and blood flow for optimal function.

"Shared Journey not only includes the actual manual therapy,
but it also includes a year of on-going support, guidance,
and education to help women navigate the world of infertility
and find optimal health and wellness."

It is a mild and completely harmless technique created to help us reconnect with our female body parts around the pelvis and balance its functions. The treatment takes place around the pelvis's various areas and organs.

We work with Mercier therapy for the woman and with hormonal balance, nutrition and lifestyle for both to optimize the health of you as a couple.

A 2013 study utilizing the Mercier protocol for women with fertility challenges supported many positive outcomes for the participants. As a matter of fact, 83% of the women became pregnant within a year of finishing treatment. The majority of these women had no medical intervention and just monitored their own cycles.

"Mercier Therapy is a special tool that women
with infertility should know about."

We also offer nutritional- and herbal therapy in addition to treatment to optimize the results and help your body get ready for a pregnancy.

We work closely together with Swedish OB/gyn, midwives, endocrinologists and GP:s. If needed we may refer to them for examinations and regular lab-work. We also have close connections with cbt-therapists, medicinal yoga intructors and doulas. Our network of international ND:s, MD:s and physiotherapists are also a great resource.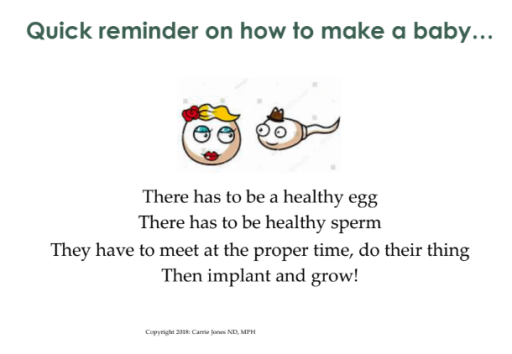 Both a sperm and an egg are needed for fertilization to occur. If you want to optimize the conditions for your upcoming child, both the man's and the woman's health and fertility must be included in the preparations.

The sperm quality of the man is as important as the woman's egg quality from trimester zero (when egg and sperm develop and mature) to fertilization.

"Nobody would even think about running a marathon without preparation since it is a huge strainfor the body both
physically and mentally.
The same strain applies to a pregnant body but for 9 whole months."

Preparing the body for a pregnancy both physiologically and nutritionally is a very important component, and it is best to start about 6 months before planning to get pregnant to optimize nutritional values and hormones.

To give your future children the best conditions, there are several lifestyle factors that are important to look into and improve. It is important to optimize both parents' own health and fertility.

If you are having difficulty getting pregnant, it's a symptom of imbalance in the body. Under stress, regardless of what it consists of, the reproductive system is downregulated, and heart and muscle are prioritized instead.

Stress is one of the greatest reasons for unhealth, and there may be many causes; food you are intolerant to, too much coffee, too little water, too much exercise, too little movement, smoking, too much alcohol, lack of sleep, too much at work, too much food, too little food, medicines, bad relationships, your own thoughts and worries.

"If you are having difficulty getting pregnant,
it's a symptom of imbalance in the body.

Under stress, regardless of what it consists of, the reproductive
system is downregulated, and heart and muscle
are prioritized instead."

Your body doesn't separate stress from work or stress from overtraining; physiologically body reacts in the exact same way.

To reduce possible low-grade inflammation, we make sure that your gut health is optimal, that you sleep well and keep your stress and diet in check.

We work together to optimize hormone levels in both the man and the woman. By testing for imbalances in the thyroid, stress and sex hormones, you can correct these and improve your chances of pregnancy.

The Shared Journey Fertility program is custom tailored to each individual woman's/couples needs and situation and will be discussed in further detail at a consultation. At the first consultation, we review the previously submitted health forms, possible tests, and talk about lifestyle and other factors that may impact your health positively or negatively.

For those living outside of Stockholm or outside of Sweden, we have an intensive 4-day treatment program where you will receive Mercier Therapy for 90min/day. The other components of Mercier Sverige's fertility optimization, Shared Journey, are included and implemented remotely via Skype/video. If 2 couples or more wishing for this service, we may travel to your place. Additional costs for the trip will be added.

"We work close to you and if you wish you can add on one of our nutrition and lifestyle packages to get additional support.
Taking care of your body and optimizing your health and fertility
makes for a more balanced life. "


We may assist with the following
Natural fertility preparation or to complement assisted reproduction procedures.
Prepare the body for pregnancy
Regulate menstrual cycle and ovulation
Normalize hormone and endocrine systems
Improve ovarian and hormone function for better quality follicles/eggs
Increase the movement, blood flow and position of the uterus
Deeply relaxing – reducing anxiety & stress
May help with; FSH, secondary infertility issues such as scar tissue from
c-sections, endometriosis and myomas, PCOS, scar tissue from laparoscopy, damage to hip or pelvis, sexual function, anovulation and amenorrhea.

"The most natural thing is for the body to have it's own hormonal cycle. In the Shared Journey program we will educate you in fertility awareness and give you the tools you need to track your period after the Mercier Therapy is performed."